From
Angus Barn's
kitchen to ours to yours ... ehh, uh, yeah ! So GOOD ! You really must make this deliciously simple yet decadent treat for an event ... SOON !
Angus Barn Chocolate Chess Pie
1 unbaked pie crust - regular size not deep dish, or make your own :)
1 stick of butter - I use salted sweet cream butter
2 squares bakers chocolate (semi-sweet DO NOT USE UNSWEET ... it will not work, I tried)
1 cup of sugar
2 eggs (beaten)
1 tsp. vanilla
Dash of salt
1. Melt butter and chocolate (double boiler, microwave, stove top... DO NOT BURN),
2. Mix with other ingredients, which you have already blended together. Mix well, to fully incorporate all ingredients.
3. Pour into an unbaked pie shell and bake 35 minutes (no longer) at 350 degrees.
4. Serve with a scoop of vanilla ice cream :)
My finished pie :)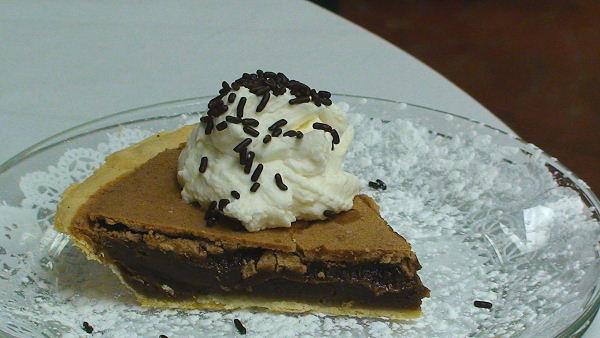 Yummy slice of goodness !